A short while back, I asked some creative and inspiring women if they would like to participate in a loose kind of blog hop. Instead of everyone posting on the same day, we will post as we get our projects done, with an end of November deadline. I send them each a package containing vintage wooden spools like you see on the upper left of the blog (badge compliments of
Hope's
wonderful photography and Janet's tweaking...thanks ladies~it looks great!). I found them while antiquing in NJ.
And here is what she made with her spools (to see more images of her spool creation, please click on her highlighted name):
(photo from Honey from the Bee blog page)
When you go to her page, you will see the several ways this Beauty can be worn. It is gorgeous~with a silver rosebud charm, mother-of-pearl buttons, and an incredibly beautiful lampwork bead made inside a bobbin! How did Janet have that perfectly complimentary bead to go with this project?! The magic of the Hive.....always having the right ingredient :-)
Janet's blog is one of the first blogs I started following when I began this cyberjourney. She has become a good friend and someone I look forward to hearing from every day, whether it be here, in an e-mail, in my regular roadside mailbox, a "like" or a longer comment on Facebook. Her blog shows her jewelry, talks of environmental issues, is full of photos of all the nature that surrounds her, is a lovely travelogue, and showcases some of her fiber creations. Her heart is big, her generosity flows, and I am honored to call her Friend and wear a few of her creations. Her style is conscious~it is beauty~it is art~it is history~it overflows with nature~it is all her own. Time to show you a bit more of what she does! These are a small sample of items seen in her
Etsy
shop, but go see some more for yourself: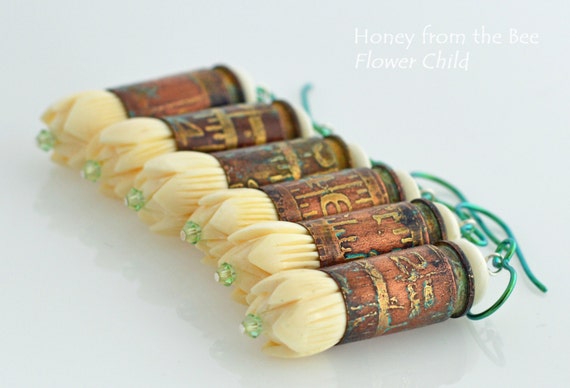 Janet etched these bullet cases and added vintage flower beads.
The look is striking and lovely.
(photo from Honey from the Bee Etsy Page)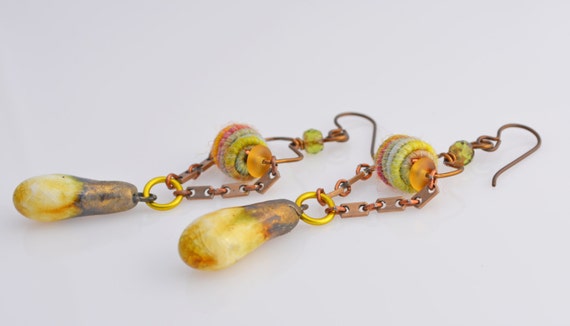 The fiber! The ceramic drops! The metal! The bright Sunny colors!
(photo from Honey from the Bee Etsy Page)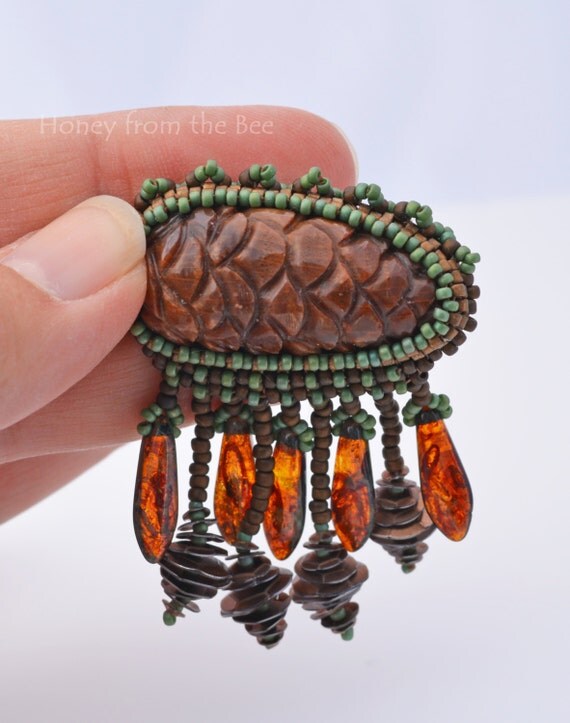 Nature is a common thread in Janet's blog posts and in her jewelry. She is so so good at letting that inspiration take over.
(photo from Honey from the Bee Etsy Page)
Stone setting, silver work, wire work, beadweaving...Janet does it all :-)
(photo from Honey from the Bee Etsy page)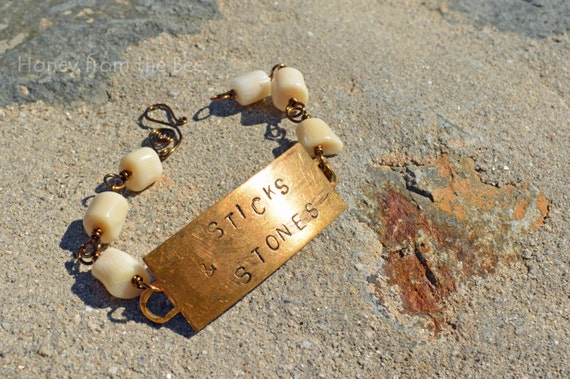 Don't be a Bully.
Words do hurt, as do sticks and stones. They can wound us for life. This is a good reminder to watch what we say and try to be more positive to those around us and also to ourselves.
(photo from Honey from the Bee Etsy page)
Please take a few more minutes to explore Janet's work and words further. She is well worth your time!
Thank you Janet, for your kindness, your friendship, your generosity, and your willingness.
And for getting this party started!