A short while back, I asked some creative and inspiring women if they would like to participate in a loose kind of blog hop. Instead of everyone posting on the same day, we will post as we get our projects done, with an end of November deadline. I send them each a package containing vintage wooden spools like you see on the upper left of the blog (badge compliments of
Hope's
wonderful photography and Janet's tweaking...thanks ladies~it looks great!). I found them while antiquing in NJ.
Hope of Crafty Hope
Fame, has posted her vintage spool creations and here they are (to see more of her photos of what she made, click on her highlighted name):
(photos from Crafty Hope Blog)
Hope writes that she hopes the French words on that first one aren't nasty :-D Aren't these wonderful?! Paper, buttons, beads, and :Poof: ~wearable art, instant conversation pieces. She is SO GOOD at taking the ordinary and the forgotten and making them memorable. Please go to her blog to read how she made these and see all the other photos she took.
I have been following Hope since I first started blogging. Hers was the second "follower" button I ever clicked. It took me a while to figure out how to comment. But when I finally did start commenting, I was greeted with warmth. Each Monday, Hope posts a menu plan for the week, complete with recipes and recipe reviews. She goes thrifting and antiquing a lot and takes wonderful photos of her new old loot! There are always a few goodies in these photos that catch my eye and it is interesting to wait and watch for them in her jewelry. She can see the beauty in all these objects and brings them to life. Just following her blog will make one see any object in a different light. She is really talented that way! And the photos she takes along the Gulf are incredibly soothing and inspiring. Please, take a little time at Crafty Hope, enjoy her DIY posts, and learn something new :-)
Here is some creative eye candy from Crafty Hope's Etsy Page: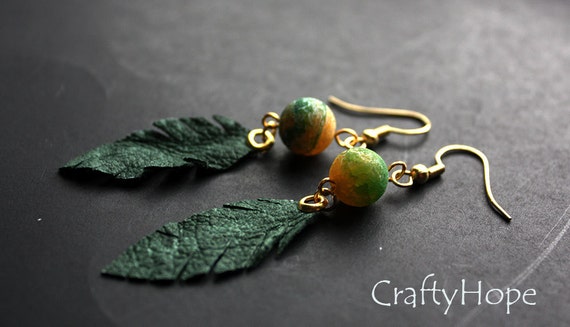 Leather Feather Earrings
Hope cut these feathers herself. The leather looks so luscious. Can't you imagine how these beauties sway and how they feel?!
(photo from Crafty Hope Etsy Page)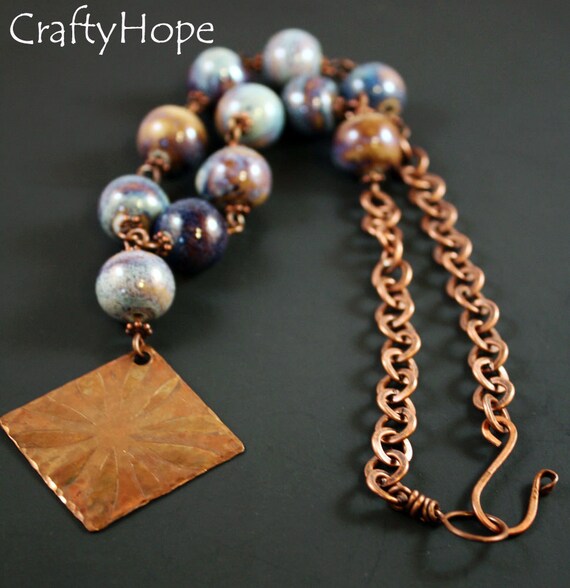 Etched Copper Flower Necklace
Hope etched this copper piece with a pretty flower design. The ceramic beads she chose compliment the copper beautifully. Love the colors here!
(photo from Crafty Hope Etsy Page)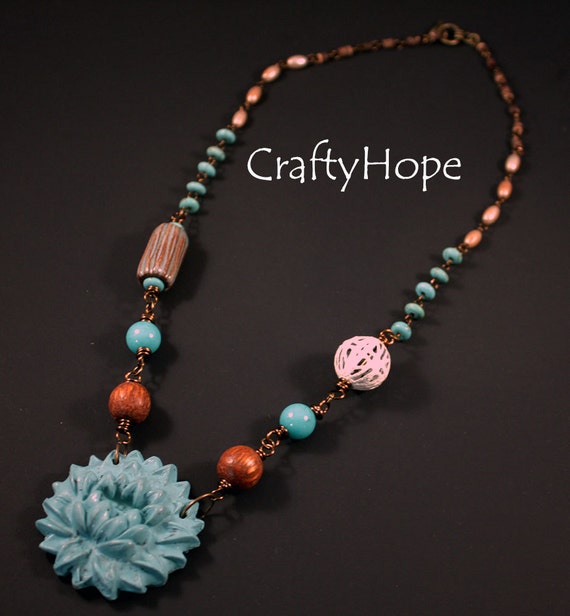 Dawn Necklace
This piece shows what Hope does best...color palettes, blending of beads (polymer, wood, stone, ceramic, glass, metal), and flow. This one has it ALL!
(photo from Crafty Hope Etsy Page)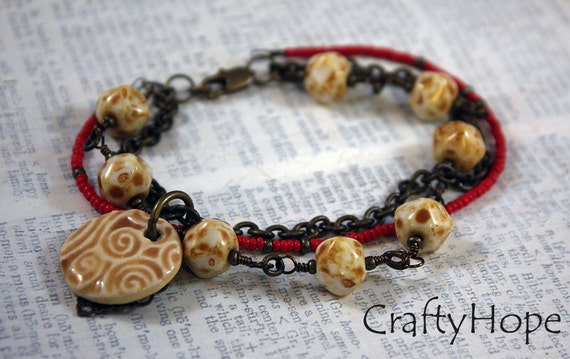 Bracelet featured in Stringing Magazine
That simple addition of the red seed beads makes the whole bracelet pop. The quiet genius of Hope. Lovely lovely bracelet. She calls this Fire Toasted Marshmallow. Are you salivating? Can you smell the fire and hear it crackling?
(photo from Crafty Hope Etsy Page)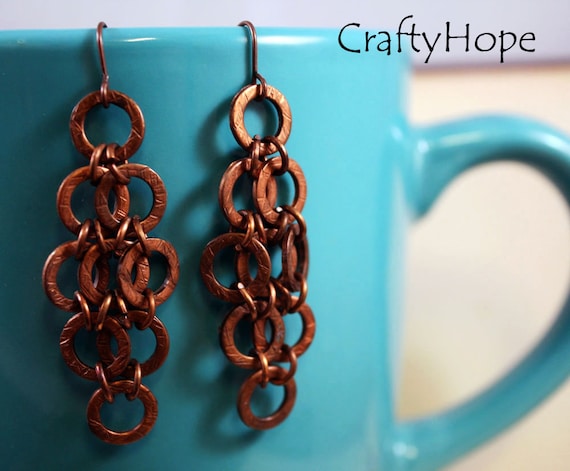 Copper Washer Earrings
Hope textured these washers and antiqued them. The movement of these must be wonderful!
(photo from Crafty Hope Etsy Page)
Hope is also very involved in ZNetShows and has been Very instrumental in putting out their first Glossi.
Click on that whole line for the link :-)
Thank you Hope, for always being quick with an e-mail, helpful tips, and kind words. And thank you for being willing to do this :-) You were slightly ahead of me on this one, and it gave me a good chuckle!